Welcome to the official website of Danish metallers COMPOS MENTIS!
We invite you to check out our music in the releases section, and feel free to download the tracks and spread them as much as you possibly can. Also check out the media section were you can read the reviews of "Our Kingdom of Decay", download wallpapers etc. In the webshop you can buy our CD's and newest shirts, tank tops etc. We hope you enjoy our Symphonic Rock from Hell!!
"Our Kingdom of Decay" is out now
Our third album, "Our Kingdom of Decay", is in the stores. You can also purchase your CD online here in our webshop or at cdon.com.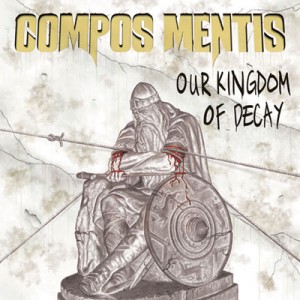 Elected "album of the year" by the readers of Metalzone.dk!
"There is practically nothing to fault in its entire construction and the sound is as near as perfect as I've ever heard on a metal album. 100% recommended." (9/10) - Reflections of Darkness
"Jeg er dybt imponeret over, de igen har formået at lave et album, hvor stor set alt går op i en større enhed. Den skiftende vokal og de vekslende musikalske kompositioner gør albummet til et bekendtskab, der aldrig bliver kedeligt." (6/6) - Metalzone
"was das Six-Pack aus dem Norden macht, ist klassischer Deathmetal vom Feinsten. Das ist berauschend, das ist Danish Dynamite. (...) ein absolutes Muss für alle Metalheads." (8/10) - Alternative Nation
"a steady stream of solid, well-written and richly textured songs to immerse yourself in." (8/10) - Rockfreaks
"Konkluderende har Compos Mentis med nærværende udspil begået noget nær det mest spektakulære, gennemarbejdede og vellydende udspil i år hidtil af indenlandske kunstnere - tillykke!" (9/10) - Metalized